60' Power Dash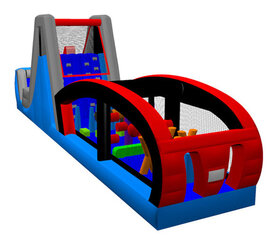 40' Radical Run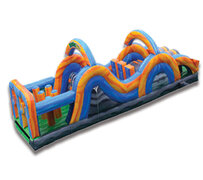 Extreme Obstacle Course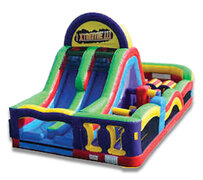 65' Radical Run N Slide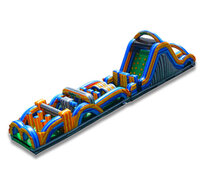 IRush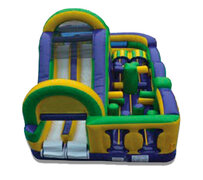 100' Mega Super Rush Run N Slide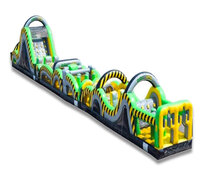 35' Radical Run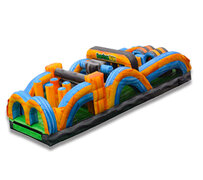 65' Super Rush Run N Slide
Radical Run N Slide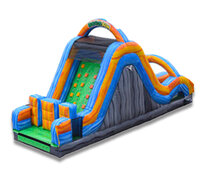 100' Mega Radical Run N Slide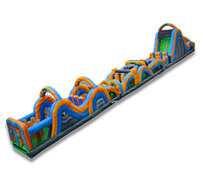 Super Shock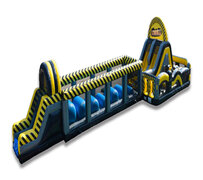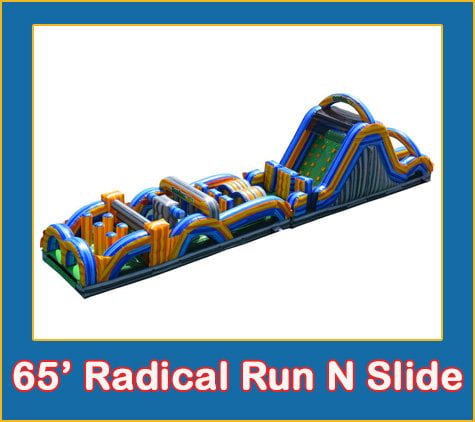 Featured Inflatable Obstacle Course Rentals
65' Radical Run N Slide
What better way to challenge all your friends and family to a race through our Radical Run N Slide. This obstacle course offers different elements where you have to climb, slide, crawl, and duck your way through these inflatables. You finish with a rock climb and slide. Challenge both your friends and family! At over 65 feet in length this is the second largest of our inflatable obstacle courses we offer. This is one of our best obstacle courses for larger events. The fun part is racing your friend from one end to the other to see who can win.

This Radical Run N Slide is perfect for any season, may it be birthday parties, events in schools or churches, fundraisers, corporate events, company picnics or simple backyard get togethers. You just need a location that it fits!
BOOK NOW!
Friendly Challenge With Inflatable Obstacle Course Rentals
What better way to have a friendly race challenge than an inflatable obstacle course. Let's Jump Events offers an amazing selection of inflatable obstacle course rentals to choose from. Our huge selection is one of the best across the entire state and we have something for nearly any event. All of the obstacle courses are fun for all ages, and offer endless fun! Climb, slide, crawl and duck your way through these inflatable obstacle courses and try to beat your friends. Obstacle courses are perfect for big events, birthday parties, carnivals and festivals as they offer a fun challenge for all sizes of events! Don't settle for the average party, let us customize a heart pounding obstacle course rental solution for you that is surely to give your guests the adrenaline rush they deserve.

All of our party interactive games rentals and other rental items are fully inspected, cleaned and sanitized between each rental for your children's safety. We take great pride in offering a high-grade selection of inflatable obstacle course bounce house rentals for your celebrations or events. No need to stress over a raggedy, unclean obstacle course rentals that are held together with duct tape. All of our units are extensively examined and in tip-top form just waiting for your rental reservation. Our customers love us for their obstacle course bounce house rental because they understand they can count on us to provide quality equipment. See what our customers have to say on Google reviews.

Check out Lets Jump Events's super cool inflatable obstacle courses near you for your next event or party! Our obstacle course bounce house rentals are guaranteed fun for anyone and will bring your guests lasting memories. Race your friends for bragging rights or rent the obstacle course bounce house for your kids to play all day long while you sit back and take that well-deserved break that's long overdue.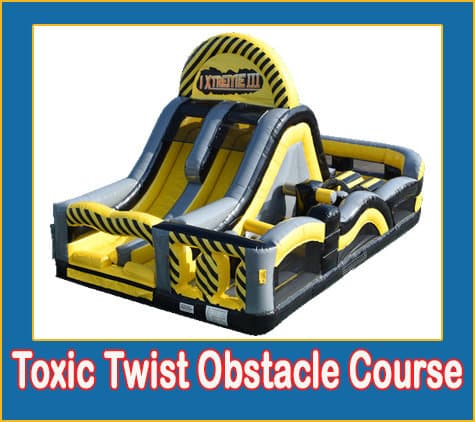 Toxic Twist
Get ready to challenge all your friends and family to an inflatable obstacle course! Let's Jump Event offers one of the coolest obstacle courses, Toxic Twist Obstacle Course. Obstacle course rentals are the perfect way to get your guests to mingle and engage in a little friendly competition!

This Inflatables obstacle course is a challenging, two lane unit that is great for small kids but is rated as an ALL AGES inflatable obstacle course. Players are challenged by a series of different obstacles. Two people at a time can compete through pop ups, squeeze throughs and obstacles to be the first to get to the end.
BOOK NOW!
Frequently Asked Questions
How do I reserve equipment?
We have several different options available but the easiest is to use our 100% real-time, online booking. You can also call us at 941.504.7855 to speak, or send an email to info@letsjumpevents.com.
Yes! As long as you're a residential client and meet our minimum order amount in your area, there is no delivery fee!
What is your Risk-Free Cancellation?
As part of our customer commitment, we offer a risk-free cancellation policy which means that after you've placed an order online, you are able to cancel it for any reason and receive a full refund. No fees, no questions asked! 100% of the payment is refunded back to you. Please note however, once we set up the equipment, the payment is due in full and there are NO refunds or credits issued.
What is your on-time guarantee?
As part of our customer commitment, we offer an on-time guarantee. If your equipment is not set up and ready to go by the start of your rental time, the equipment is on us! Please note that is for your party rental start time and not your scheduled delivery time. Adequate power is on-site to ensure equipment can be up and operational before the event starts. We can provide generators if needed at an additional charge, but they must be rented before the event takes place.
What if it rains or we expect bad weather?
If it is too windy, we will not set up an inflatable. If it is raining, we always will leave the decision up to the customer, unless we otherwise see fit. If the weather looks to be an issue and you need to cancel we will issue a credit, or 100% refund. Please note however, once we set up the equipment, the payment is due in full and there are NO refunds or credits issued. Unfortunately, we cannot predict or control the weather but we wish we could!
People Who Rent Inflatable Obstacle Course Rentals Also View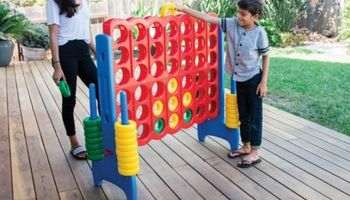 Backyard Games
Giant backyard game rentals offer a different form of entertainment. They are perfect for themed parties, corporate events, school gatherings or religious events.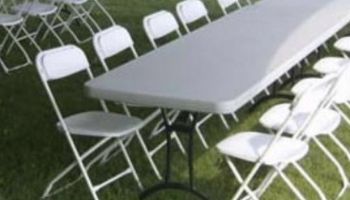 Tables & Chairs
Tables and chairs are the perfect addition to tent rentals. They are a great way to give your guests a place to sit and eat or just relax and get off their feet for a bit.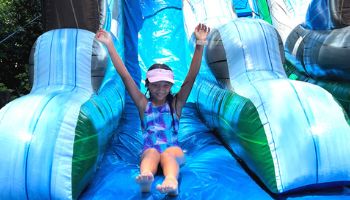 Water Slides
Nothing feels more like summer time than water slide rentals! Whether you want bright colors or a themed item, we offer water slide rentals everyone will love.
Do You Deliver Inflatable Obstacle Course Rentals Near Me?
When it comes to party and event rentals, the answer is YES! You have come to the right place. We have a large massive inventory of all your party needs in Sarasota, FL. Let's Jump Event is a guaranteed hit at all the parties and events we deliver to! We are a family owned party rental company that has been providing fun party rentals for years. We specialize in party rentals for events such as but not limited to backyard parties, school festivals, birthday parties, church carnivals, high schools and businesses. We deliver the fun to your location with Bounce Houses, Inflatable Water Slides, Obstacle Courses, Interactive Games, Table, Chairs and Tents,Unique Attractions, Mechanical Bull, Giant Yard Games, Water Slide Combo and Dry Slides. We deliver inflatable fun and all you need to complete the party is have your guests show up ready for a fun time.
Our Service Area
Proud to Serve The Following Areas:
If your party or event is beyond that radius, just let us know! We may be able to make special accommodations to suit your event.
NOTE: Fees may vary depending on how far you are outside our service area.