T-Rex/Dino Themed Birthday Party Using Our Inflatable T-Rex Bounce House with Water Slide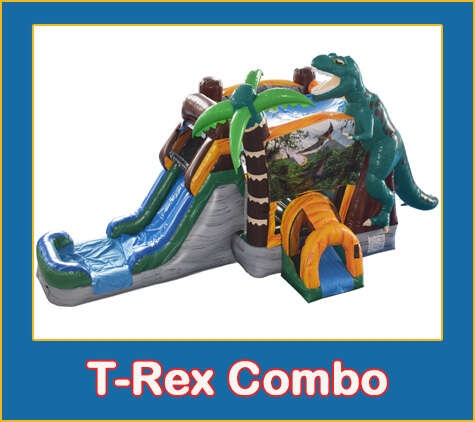 T-Rex bounce house with water slide
Birthday celebrations don't always have to be about how old someone is. Thanks to the inflatable T-Rex bounce house with water slide, there is a whole new kind of party that your prideful dino-loving kid is sure to love!
The
T-Rex inflatable with water slide
is an opportunity to let loose and to really get in touch with the wild side. The ultimate kids' indoor playground allows your birthday boy and princess to run around and burn off some extra pre-party energy.
The bonus is that the inflatable dino is such a central feature of the party. Your impressive prehistoric friend can be the memorable backdrop to many family photos that will be cherished for years to come. Guests can come to the party prepared with bathing suits, water shoes, and sunscreen and enjoy the awesomeness of the T-Rex slide whether they're 1 or 99.
Your kids will hunt, climb, hide, and slide.
Our inflatable adventure unit is designed with a complete T-Rex dinosaur theme and demonstrates the finest production techniques and materials. Built to withstand even the most enthusiastic kids, the outdoor playground is not only fun but durable and rugged enough to last for years. Boasting multi-colored patterns, a life-sized 2 story tall dino, and slide, as well as a climb-up and slide-down feature, the party centerpiece is simply impressive and an excellent source of child entertainment and a compromise from the standard bounce house rentals that many families use for
kids' birthday parties
.
Give your kids the chance to pretend that they have just landed on Earth, roamed the land, and are ready for the fun that awaits! Not only does this party centerpiece provide hours of entertainment, but it also gives children the chance to play hoop shooting that is modeled after the dino experience. Your kids will hunt, climb, hide, and slide. Kids are sure to create wonderful memories and lasting images with this unique inflatable dinosaur-themed party venue.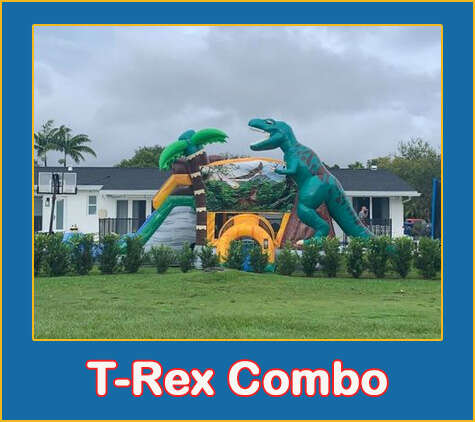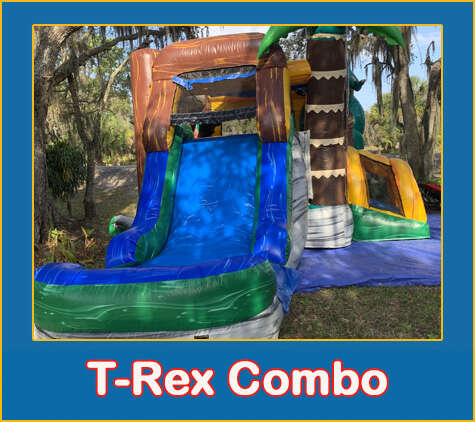 The T-Rex Combo is the thing to get for their special occasion
If your child wants to be an even BIGGER monster than ever before, our T-Rex Combo is the thing to get for their special occasion. Your little dinosaur will be able to pretend that they are walking through a prehistoric jungle as they go through the bounce house, and the ability to go through the gorgeous water slide is really just an added bonus. Boasting that good old-fashioned inflated bounce house bounce, which feels like you're jumping on a big, bouncy playground ball, the T-Rex with the water slide is sure to be enjoyed by everyone involved.
The kids will be able to play together side-by-side on the T-Rex slide, and you can allow them to all enjoy the scramble to be the first one through the water tube. It's a great way to have some fun at the park or at the pool or to set up at a local birthday party and provide a place for kids of all ages to have fun and to let loose.
Make your kids' birthday party a blast with our inflatable T-rex, and make sure that everyone had a roaring good time! With our guaranteed satisfaction and on-time delivery, there is no reason why you shouldn't treat yourself and your kids to this grand birthday tradition. We believe that you will fall in love with this bouncy inflatable just as much as your kids, and you will want to make sure to reserve it for other family events as well. Make your bookings, and you can take advantage of our discounted rates today, and you will not be disappointed in the service and quality that you get from
Lets Jump Events
.