JawSOME Shark Bounce House with Slide Rentals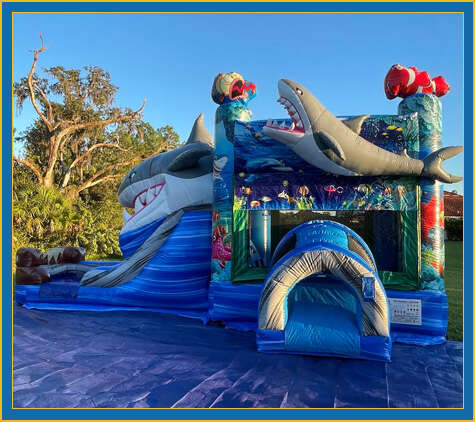 Shark Bounce House Birthday Party Rentals
Every
special occasion
is a chance to add a little bit of excitement and wonder—and this is especially true for a child's birthday party.
Lovers of the deep blue sea and of adventure, children of all ages love to celebrate in style and with excitement. That's why we offer one of the most unique birthday party ideas in our inflatable shark bounce house rentals. Themed after the ferocious and majestic predator of the sea, this unit allows your child to pretend that they are swimming and hunting with the fearsome and dangerous fish. Featuring colors true to the majestic creature itself, the inflatable will make your party one that everyone will remember for years to come.
We offer a complete shark-themed birthday party with this inflatable, including an inflatable shark slide, accessories, and games.
We're gonna need a bigger boat!
Lovingly crafted and colored to perfection, this
shark bounce house inflatable
is sure to stand out at any event—and that's no exaggeration. This inflatable bounce house is unlike any other because it's actually modeled after the real-life animal, giving the bouncing fun a whole new kind of dimension. The entry features a baby shark, complete with teeth, giving kids a whole new level of imaginative play that they will love. The exit of the slide rolls down from within the jaws of the shark itself, and the interior of the bounce house is adorned with tropical fish and oceanic accents, giving kids a great view of the undersea world.
This inflatable is not only fun and educational, but it's also safe and durable. The multicolored inflatable is built to last and features a no-trip floor and ground anchoring. These features keep kids safe and secure while they play and also makes sure that they don't trip on any inflatable seams or loose fabric while they enjoy the unit. The unit itself is made of the finest materials and is constructed with top-of-the-line production techniques, so it's sure to handle even the most enthusiastic birthday-goers.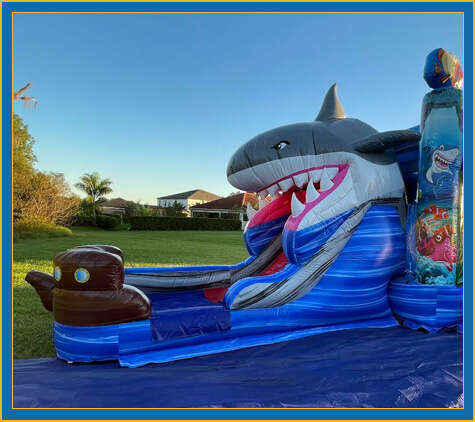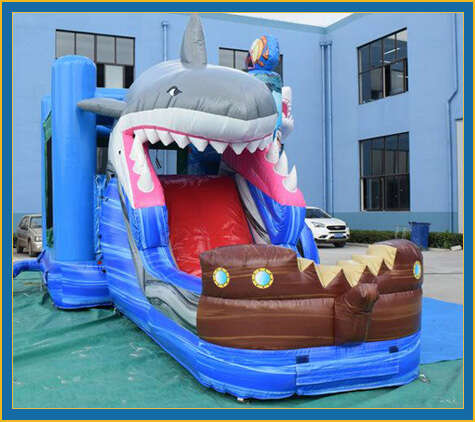 Enjoy The Complete Shark Party Package
Let your little explorers play games with the family at the inflatable or have them go through the slide multiple times—the durable vinyl is sure to stand up to the fun and wear-and-tear of all the guests. Kids can even take turns playing their favorite shark-themed party games inside the inflatable—who doesn't love the idea of the pinata hanging inside of a shark's mouth?
Our inflatable can be used for parties at the beach, pool parties, parties at the park, birthday parties, and any other occasion that your family might want to have a little fun and let loose. The inflatable shark slide is sure to be enjoyed by children of all ages and will be a source of entertainment for years to come.
If you want to take your kids' birthday party to the next level, then you need to take a look at our
inflatable shark bouncer
. Our friendly and knowledgeable staff is available for all of your questions and concerns and can help you find exactly what you need for your child's special day. We know that you will fall in love with our inflatable shark slide, and we look forward to helping you plan your party.