Join Your Friends Under The Sea With Our Mermaid Bounce House Rental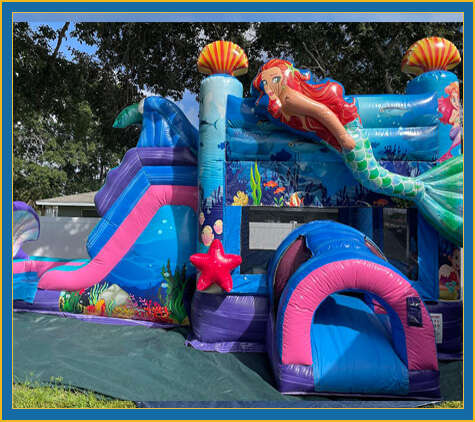 Mermaid Bounce House Birthday Party Rentals
Combining the wonder of the water world with the imaginative play of mermaids, our
mermaid bouncer
is sure to be a hit at any birthday party. The bright colors and the cute accents are sure to catch your little one's eye, and she will be eager to set up her own special underwater fantasy kingdom. From the adorable seahorse that is guarding the mermaid's domain to the rainbow-colored seashells and dolphins, this inflatable bounce house is sure to become a party favorite for any little mermaid lover.
As soon as she sees the stunning and brightly colored inflatable, your little princess will be clamoring to set up her own underwater fantasy world and will want to invite all of her friends to help her celebrate. The inflatable is sure to be a hit, and your birthday girl will never want to go home. Other kids too will be entranced by the beauty of the underwater kingdom, and they will all be clamoring to jump inside the bounce house and to explore the magical undersea world.
Immerse In the Mystical Undersea World
You will be able to appreciate the fact that the inflatable mermaid bounce house is a good source of exercise for your little girl and all of her friends. Your daughter will run around and explore the inflatable, and she will be able to play a variety of games with her friends, like her very own version of hide-and-seek or tag.
But what really sets our inflatable apart from the rest is the fact that our mermaid bounce house with slide rentals comes with a life-sized inflated mermaid featuring the same lovely aquatic princess dress that your little one so admires. Your daughter will be able to stand up and pose while you take many pictures that will be the envy of all of her friends and a lifetime of memories for your family.
Your daughter will be able to enjoy bouncing up and down in the
mermaid bounce house rental
and will be able to do so for hours without you having to worry about how long the party will last. The bouncer is sturdy and durable and will be able to withstand vigorous play. We offer our inflatable mermaid with slide rentals in one size (16'H / 16'W / 32'L) which we believe is large enough to easily accommodate 5-10 kids (depending on their age) inside at the same time. Moreover, the single-lane slide ensures that everyone can safely exit the bouncer without bumping into each other.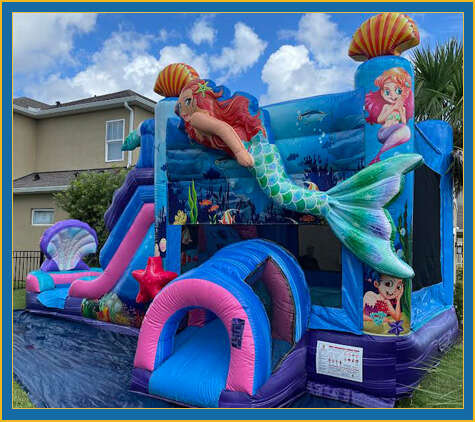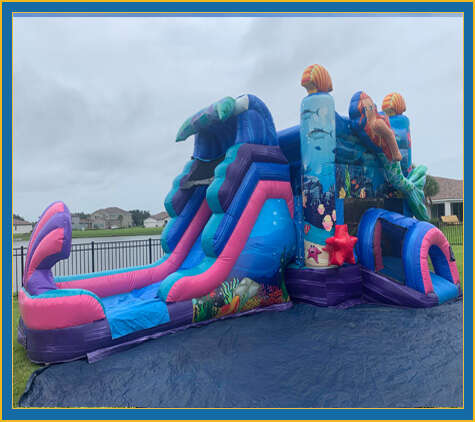 Book Your Mermaid Bounce House with Slide Rentals Today
Our inflatable bouncer is certain to be a hit at your little girl's birthday party, and she will have an underwater fantasy world that she will love to play in for many years to come. So, call in your guests and every single mermaid lover that you know, and prepare for a birthday celebration that will be a dream come true for your little princess!
To book your mermaid bouncer today, give us a call at 941.504.7855 and we will give you the best rates and deliver it for free! The
mermaid bouncer
is sure to transform all so formal and regular kid's birthday parties into an exciting undersea fantasy world that will be remembered and cherished for years to come.
It's your princess's birthday, and she wants to have the best party ever! The best way to make her dreams come true is to bring her favorite mythical creature to life—the mermaid!